Vizstarter is your one-stop guide for your global launch.
✓ Specialty & Expertise in both Korea & United States
✓ Official US Launch Service after Crowdfunding Campaign
✓ Excellent Customer Service, Inventory & A-Z One-Stop Solution
__
Vizstarter's Promise
Vizstarter began with a simple dream of "Korean start-ups and small to midsize businesses thriving in a global setting." We have assisted many start-ups in their challenges and growth by consulting them on the essential steps necessary for a successful launch.
Vizstarter will pave the path for your successful global launch through comprehensive services for crowdfunding campaigns (Kickstarter & Indiegogo), and various B2B and B2C distribution channel launches, including Amazon.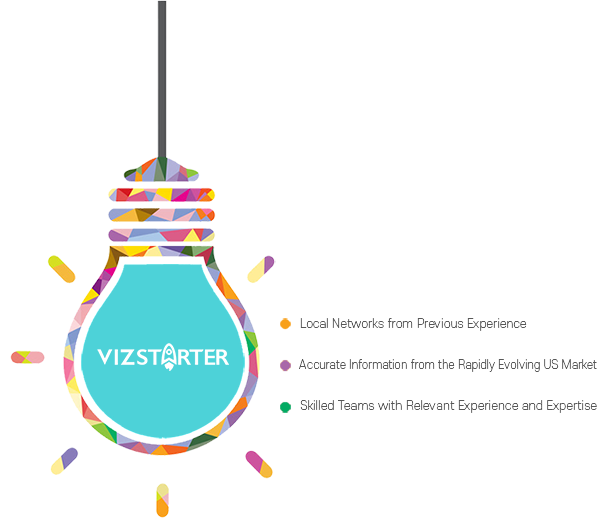 __
Vizstarter Knows the US, Vizstarter in the US
Vizstarter has assisted start-ups and small and midsize businesses launch in the United States for years. The strategies from previous experience, networks with local companies, coupled with the deep insight and accurate analysis of the US market lead to success in the US market — all conducted by Vizstarter's own local teams in the States.
We design and manage campaigns that effectively target the appropriate crowdfunding audience. We carefully research and analyze the US market before launching on platforms such as Amazon. We also network with local businesses in the US to ensure the most successful launch.
Accurate market research and analysis is the most basic foundation when preparing for a US launch.
Vizstarter has that basic step fully covered. We will support by taking the vital first step with you for your successful launch.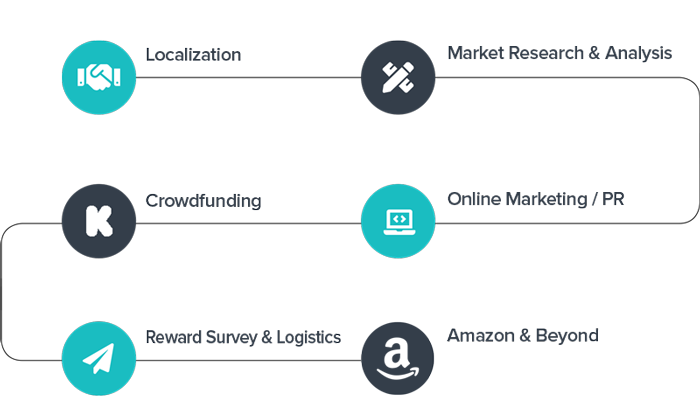 Everyone dreams and challenges of launching in the US, but it may not be as easy as it seems. From branding, marketing, to even distribution platforms, there is not a factor you should miss.
Vizstarter has experienced and professional local teams in the US, providing an A to Z one-stop solution that effectively manages and grows your brand and business.
We don't stop at simply drafting a crowdfunding project. Our comprehensive services offer branding, marketing, logistics, inventory management, fast and friendly customer service and B2B support for third party distributor launches, including Amazon launches we offer fast and friendly customer service, as well as logistical support.
__
A Learning & Sharing Platform
Vizstarter has hosted various workshops and seminars by utilizing the network with Kickstarter that was established by the local team in New York.
In 2018, The Korea Institute of Design Promotion, Venture Square, Korea Venture Association and Inha University co-hosted a crowdfunding seminar. In 2019, Korean start-up representatives had the opportunity to join Kickstarter's Design & Technology Director Heather Swift Hunt for a workshop at KVBA and Inha University. 
Beginning with the crowdfunding power webinar in March 2021, Vizstarter plans on actively hosting webinars with professionals from the crowdfunding and e-commerce industry, creating a platform where valuable information and insights about the current market trends can be commonly shared.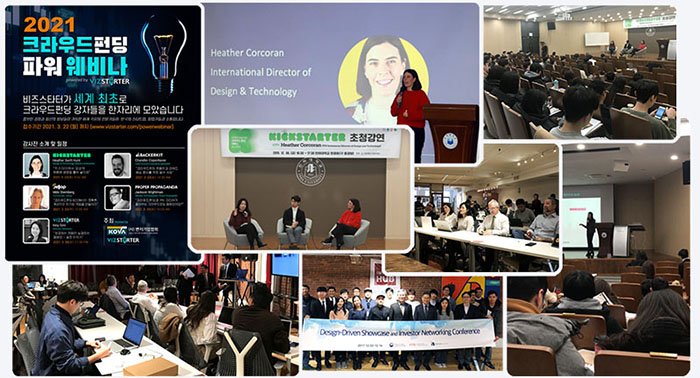 __
Success Story Made Together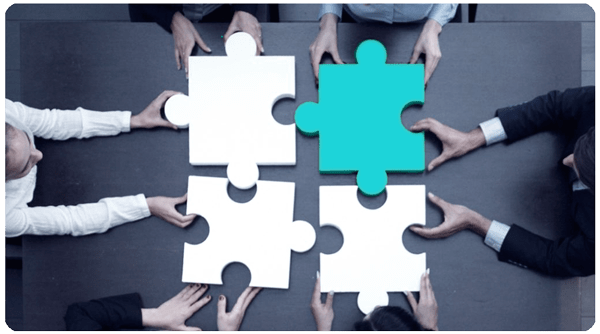 Your dreams, challenges and success are Vizstarter's dreams, challenges and success.
The growth of Korean start-ups and small/midsize businesses, as well as their passion and their stories is what fuels Vizstarter to do our best every single day. 
We will do our very best for your brand to shine even more on the global stage.
__
Vizstarter's Departments/Teams

Crowdfunding Team
Business Development & Planning

Content Development

Design & Art

Videography

Marketing & PR

Amazon & Beyond Team
Business Development & Planning

Amazon Management

Design & Art

Social Media

Marketing & PR

B2B Support

Support Team
Customer & Backer Support

Technical Support

Returns & Quality Control

Logistics Support
VizEdu Team
Business Development & Planning

Content Development

Design & Art

Communication
Meet Vizstarter's Comprehensive Services
Kickstarter? Amazon? Or Business Registration? Or should I be looking into B2B distribution channels first? What about the current market trends?
US Launch – We all talk and dream of it, but we often find ourselves struggling not knowing where to begin.
We pick up every detail precisely without any error and we are here with you every step of the way — Vizstarter will be your ultimate guide.
Contact Us
Have a new project in mind?
Are you working on a unique and creative project?
Curious about crowdfunding?
Contact Vizstarter TODAY for more information!